Doctor:
Nicolás Redondo Urbieta
Proposal:

Faculty of Work's Science

Sponsor:
Prof.

Dr.

Francisca Fuentes Rodríguez

Celebration:
Faculty of Philosophy and Literature 22nd of September 2008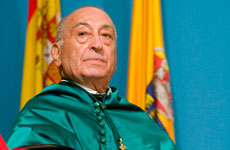 D. Nicolás Redondo Urbieta, was born in 1927 in Baracaldo (Vizcaya) in the heart of a Basque family with a deep unionist and socialist tradition. From the age of 15 he worked as a metalworker in the National Company of Sestao (nowadays Astilleros Españoles), from which he was dismissed after 32 years of service for his trade union activity.
An active militant of the UGT trade union and the Socialist Youth, he suffered reprisals during the Franco regime.
He was responsible for the Socialist Youth and the Socialist Party (PSOE) of Euskadi and, in addition, the first worker delegate who represented Spain in the 63rd Annual Conference of the ILO (1977) after the dictatorship. Member of the Executive Commission of the PSOE from 1970 to 1977, he was elected deputy of the PSOE by Vizcaya in the legislative elections of 1977, 1979, 1982 and 1986, resigning of the seat in 1987. In the XXX Congress of the UGT-Madrid, 1976 -he  was elected General Secretary of the union, a position he held until April 1994.
He has been a member of the Executive Committee of the European Trade Union Confederation (ETUC) for a number of years and has also served as Vice-President of the European Trade Union Confederation from 1989 to 1994. He has also been a member of the Executive Committee of the Trade Union Confederation of Free Trade Unions (ICFTU).
Among other distinctions, Redondo holds the Grand Cross of the Order of Civil Merit, the Gold Medal of Merit in Labor, the Cross of Commander of the Order of Merit of the Federal Republic of Germany and the Order of Constitutional Merit, being Official of the Legion of Honor of the French Government and Honorary Doctorate by the Polytechnic University of Valencia.