Miguel Ángel Ladero Quesada
Doctor:
D. Miguel Ángel Ladero Quesada
Proposal:

Faculty of Philosophy and Literature

Sponsor:
Prof.

Dr.

Rafael Sánchez Saus

Celebration:
Faculty of Philosophy and Literature 23rd of April 2004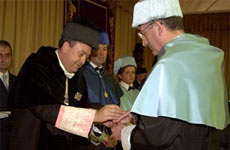 He was born in Valladolid in 1943. He graduated from the Faculty of Philosophy and Literature of the University of Valladolid, where he also got a doctorate. At 27 years of age, he obtained a position as an adjunct professor of the Universal Middle Ages and of Spain at the University of La Laguna. He succeeds, a year later, to the category of university professor with identical title and destiny.
In 1974 he moved to the University of Seville and shortly afterwards to the Complutense, where today he continues with his teaching.
Miguel Ángel Ladero has directed more than thirty doctoral theses, of which the first two were held at the University of Cadiz. All have deserved the highest rating and cover the most diverse themes of Hispanic medievalism. His extensive participation in thesis courts, scientific awards and teaching or research places in Spain and abroad is joined by his long research career with two hundred and fifty works published in various European and American publishers, not counting more than one Hundreds of reviews and critical notes on books, prologues, newspaper articles and other minor publications.
These works have allowed great advances in the knowledge of taxation, political history, confessional minorities, regional history and many other aspects of the Hispanic kingdoms in the Late Middle Ages. Within them, his first focus was the conquest and repopulation of the kingdom of Granada, subject to which he dedicated his doctoral thesis.
Miguel Ángel Ladero later directed his research to one of the issues that has given him worldwide recognition, finance and taxation. La Hacienda en el siglo XV, El siglo XV en Castilla. Fuentes de renta y política fiscal y Fiscalidad y poder real en Castilla, are some of his best known works.