Margarita Salas Falgueras
Doctor:
Margarita Salas Falgueras
Proposal:

Facultad de Filosofía y Letras

Sponsor:
Prof.

Dr.

María Luisa González de Canales García

Celebration:
Faculty of Philosophy and Literature 23rd of April 2004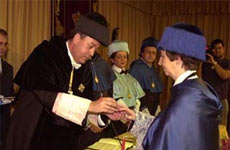 Born in Canero (Valdés) on November 30, 1938, she is a renowned scientist whose life is dedicated to research in her laboratory at the "Severo Ochoa" Molecular Biology Center of the Autonomous University of Madrid.
Disciple of Severo Ochoa, with whom she worked in the United States, she was commissioned by the Nobel laureate, along with her husband, the scientist Eladio Viñuela, to promote Spanish research in the field of biochemistry and molecular biology.
Graduated in Chemical Sciences from the Complutense University of Madrid, she has published more than 200 scientific papers. She belongs to the most prestigious societies and national and international scientific institutes, she collaborates in and is member of the editorial board of the most important scientific publications. She was appointed director of the Institute of Spain, an organization that groups all the Spanish Academies.
She has received several awards, being named European Researcher 1999 by UNESCO. She received the Jaime I prize for research in 1994. She was appointed director of the Institute of Spain (1995-2003), which brings together all the Royal Spanish Academies.
She is currently researching at Severo Ochoa Molecular Biology Center, a joint research center at the CSIC and the Autonomous University of Madrid, where she continues to work with the bacteriophage Phi29 virus, which infects a non-pathogenic bacterium, Bacillus subtilis, which is very useful In biotechnology research.
She is a member of the Royal Academy of Exact, Physical and Natural Sciences, Royal Academy of the Spanish Language and president of the Severo Ochoa Foundation.
In May of 2007, she was named member of the National Academy of Sciences of the United States, becoming the first Spanish woman who is part of this institution.