José Ignacio Barraquer Moner
Doctor:
José Ignacio Barraquer Moner
Proposal:

Facultad de Medicina

Sponsor:
Prof.

Dr.

Francisco Salado Marín

Celebration:
Faculty of Medicine 18th of May 1987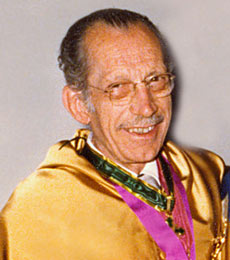 Born in Barcelona on the 24th of January 1916 in a family of ophthalmologists, José Ignacio Barraquer Moner follows in the footsteps of his grandfather and his father.
His training starts with his father, then he finishes his degree in Medicine and Surgery at the University of Barcelona. She holds a doctorate from the University of Madrid in 1952 and has a specialty in the Barraquer Institute of Ophthalmology, where she is Vice-President and Head of the Specialization Courses until 1954. She decides in these years to leave the Barraquer Institute and move to Bogotá where he creates a Similar center and continues its research work.
He excels as a researcher in the techniques of refractive surgery, a term he introduced himself in 1949. In 1958 he published a method to obtain lamellar grafts in frozen corneas and in 1963 he culminated his works of keratofaquia. These are just a sample of the original techniques of José Ignacio Barraquer, among the twenty that he was able to devise. In addition, the eminent ophthalmologist was able to invent instrumental and auxiliary methods of exploration, precise and accurate, for the implementation of these techniques. The surgical microscope, the surgical keratometer, the microkeratoconus, the tornocrifer or computerized cryo-lathe are some of their brilliant creations, which with the rest, total at least forty instruments.
His research work in the field of ophthalmology is innumerable: at least 256 publications, among which his book "Refractive Queroplasty", published in 1975; "Keratomileusis and Querathaquia", in the year 1980; Or "Corneal Refractive Surgery," in 1989 can be highlighted. He has participated in numerous congresses, conferences and presentations around the world, surprising for his availability to offer himself to any ophthalmological society that requires him, being outstanding his work in Latin America
Professor Barraquer was honoured in 1968 with two prizes of great importance, the Prize of Honor of the Society of Cryo-Ophthalmology of the United States and the Extraordinary Prize of the Society of Cryo-Biology of this same country. In 1972, he received the Prize of the Society of Contemporary Ophthalmology and, three years later, he is again highlighted by this Society for his contribution to Ophthalmology education. Graeffe de Oro of the Societa Oftalmologica Meridionale of Italy, medal of the Cuban Society of Ophthalmology, Medal of the Colombian Federation of Optometry, etc., he has received decorations all over the world.
In addition, he was Honorary Academician of the Royal Academy of Medicine of Murcia, Honorary Doctorate of the University of Santa Maria (Brazil), Catalan of the Year in 1970, Honorary Member of the Spanish Society of Beneficence (Colombia), Member of Merit Of the Academy of Medical Sciences of Barcelona and holder of the Keys of the City of Miami (USA).
He died in Bogota in 1998.