Francisco Sánchez Gómez – Paco de Lucía
Doctor:
D. Francisco Sánchez Gómez
Proposal:

Board of Directors of the UCA

Sponsor:
Prof.

Dr.

José Cándido Martín Fernández

Celebration:
Algeciras Higher Polythecnic School 23rd of March 2007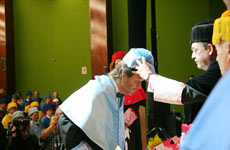 Considered the most universal of flamenco artists, his style has created a school among the younger generations and with his art he has become one of the best ambassadors of Spanish culture around the world, bringing his masterful guitar touch to the most important stages in Europe, the United States, Russia, Japan and the Middle East.
Francisco Sánchez Gómez, known as Paco de Lucía, was born in 1947 in Algeciras (Cadiz). He started playing the guitar at age seven and with only fourteen recorded his first album, along with his brother Pepe, in the duo Los Chiquitos de Algeciras. In 1963, he toured overseas with the company of Jose Greco and a year later recorded his first solo work, La fabulosa guitarra de Paco de Lucía. But it was next to Camarón de la Isla – with whom he recorded more than ten albums – with whom he would form one of the most important artistic couples of the twentieth century.
Paco de Lucía has revolutionized the way to accompany and conceive the flamenco interpretation of the guitar, incorporating to its musical language new chords and rhythmic setbacks. His creative genius and his interpretive mastery have allowed flamenco to dialogue with the classical music of Falla, Rodrigo or Albéniz, bossa nova and with the jazz of Chick Corea or John McLaughlin, among others. With his work Friday night managed to sell more than one million copies, an amount unimaginable for a flamenco artist. In 1981 he founded his famous Sextet, with which he created the current concept of the flamenco group.
His abundant works include Fantasía flamenca (1969), Recital de guitarra (1971), El duende flamenco de Paco de Lucía (1972), Fuente y caudal (1973), Almoraima (1976), Solo quiero caminar (1981), Paco de Lucía en Moscú (1986) and Luzía (1998), among others. In addition, he has composed and performed music for films such as La Sabina, The Hit, Carmen, Montoyas and Tarantos and Sevillanas. After a compositional silence of five years, he presented in 2004 Cositas buenas, a work praised by critics as "masterpiece". Four books have been published about his life and work, one of them written by Paco de Lucía himself.
He is Favourite Son of the Province of Cádiz and of the City of Algeciras and Medal of Andalusia (1988). He has received, among many other awards, the National Flamenco Art Guitar Award, the Gold Medal for Merit of Fine Arts (1992), the Honorary Distinction of the Music Awards (2002) and the Prince of Asturias Award for The Arts (2004).