Doctor:
Adolfo Sánchez Vázquez
Proposal:

Faculty of Philosophy and Letters

Sponsor:

Dr. 

 Mariano Peñalver Simó

Celebration:
Faculty of Medicine 15th of May 1987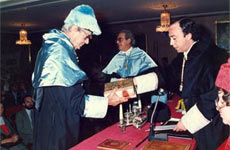 Born in Algeciras in September 1915, Adolfo Sanchez Vazquez was one of the great Spanish thinkers in exile and a specialist on the problems posed by Marxism in relation to art and aesthetics.
When still a child, he moved with his family to El Escorial, and later to Malaga, where he studied his baccalaureate and, later, a degree in education. It was there where Adolfo Sanchez began his passion for literature, "encouraged by the personality of Emilio Prados, one of the greats of the Generation of '27". He collaborated in the Octubre (October) magazine, founded by Rafael Alberti,
In 1935, he began his studies at the Faculty of Philosophy and Letters of Madrid, where he rubbed shoulders with the intellectual circles of the time and began to collaborate in the literature section of Mundo Obrero (Labour World).
The start of the Civil War found him in Malaga, where he had founded the magazine Sur (South), dedicated to poetry. He was forced to abandon his studies and he wrote his book of poems "El pulsar ardiendo", which would be published years later. During the war, he ran the newspapers Agora and Acero.
Adolfo Sanchez was exiled to Mexico in 1939. Exile, in his words, is "a tear that does not just tear, a wound that does not heal, a door that seems to open but does not…". At the National Autonomous University of Mexico, he finished his studies of Philosophy, where he was a full-time professor and coordinator of the College of Philosophy. He was also professor at the Michoacan University. In addition, he maintained his cultural activity with his participation in the foundation of Romance and his collaboration on the magazine España Peregrina.
In 1975, he returned to Spain for the first time since his departure in exile. In 1984, he received the appointment of Honorary Doctorate from the Autonomous University of Puebla. And in 1987, the same title from the University of Cadiz.
Defendant of an anti-dogmatic and open Marxism, Sanchez Vazquez has been a philosopher, essayist, journalist and poet, as well as, a tenacious critic. Some of his main works are Las ideas esteticas de Marx (1965), Filosofia de la praxis (1967), Etica (1969) and Estetica y marxismo (1970).