Doctor:
William W.L. Glenn Yale University United States of America
Proposal:

Faculty of Medicine

Sponsor:
Prof.

Dr.

Honesto Garrido García

Celebration:
Faculty of Medicine 29th of May 1981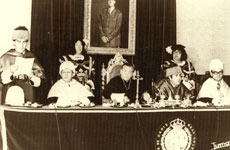 Born in Asheville (North Carolina, USA) in 1914, Dr. William W. L. Glenn is one of the most important figures in the field of thoracic and cardiovascular surgery. More than 160 scientific works, a treatise on Surgery and several monographic studies gather their contribution to this Science that, despite having evolved vertiginously over the last few decades, continues making use of the findings of Dr. Glenn.
The artificial heart that he designed in the early fifties is the prototype of those used today; and his description of a right-heart by-pass technique allowed the first open-heart operation to perform a pulmonary valvulotomy.
Shortly thereafter, in 1958, he implanted the first radiofrequency-driven pacemaker. By the 60s, he had created the diaphragmatic pacemaker, that he himself implanted in numerous patients.
His intense research work has allowed him to make important contributions in the treatment of cardiac malformations, from techniques for the suture of the ductus arteriosus, to the opening of the mitral valve, not forgetting the technique that bears his name, the Glenn operation.
The conviction of the professor in confronting a battle with disease and his absolute faith in his success have contributed to the popularity of Dr. William W. L. Glenn, who has not only been a great researcher but also a doctor highly admired by his patients.
Professor of Surgery at Yale University, he has been honoured with the highest distinction of this institution, Master of Arts (Honorary), in addition to receiving numerous awards such as the Stewart Award for highest mark in surgery, from Jefferson Medical College, or the Gold Heart Award of the American Heart Association. He is a member of professional surgery societies of international scope, being President, Vice-president or founding member of many of them, among them the International Surgical Group, the Yale Medical Society, or Societe Internationale de Chirurgie.