Doctor:
Valentín Fuster Carulla
Proposal:
Faculty of Medicine
Sponsor:
Prof.

Dr.

D.

Alipio Mangas Rojas

Celebration:
Grand Theatre Falla of Cadiz, 12th of April 2012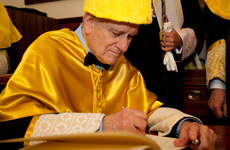 Professor Valentín Fuster Carulla was born in Barcelona in 1943. He holds a PhD in Medicine and Surgery from the University of Barcelona and spent several years in the Mayo Clinic. In 1981, he began working at Mount Sinai Medical School and was appointed chief of cardiology. From 1991 to 1994 he was Professor of Medicine at Harvard University and Head of Cardiology at the Massachusetts General Hospital. In 1994, he returns to Mount Sinai as director of the Zena and Michael A. Wiener Cardiovascular Institute, where he is appointed director of cardiology. He is currently general director of the National Center for Cardiovascular Research (CNIC) in Madrid.
He has served as president of the American Heart Association, the World Heart Federation and a member of the National Academy of Science and Medicine of the United States, as head of the Committee on Prevention of the Global Epidemic of Cardiovascular Diseases. He is an honorary doctor of 26 universities all over the world.
He has published more than 800 articles on coronary heart disease, atherosclerosis and thrombosis and he is editor-in-chief of two books of worldwide reference cardiology: The Heart (previously edited by Dr. J. Willis Hurst) and Atherothrombosis and Coronary Disease (with Dr. Eric Topol and Dr. Elizabeth Nabel). He is the editor-in-chief of the journal Nature Reviews Cardiology.
In 1996, he received the Prince of Asturias Award for Scientific and Technical Research. He has also received research awards from the four major cardiological organizations worldwide: The Distinguished Researcher Award (Interamerican Society of Cardiology, 2005 and 2009), Andreas Gruntzig Scientific Award and the Gold Medal Award (European Society of Cardiology, 1992 and 2007, respectively), Gold Medal Award and Distinguished Scientist (American Heart Association, 2001 and 2003 respectively) and the Distinguished Scientist Award (American College of Cardiology, 1993).