Juan de Dios Ramírez Heredia
Doctor:
Juan de Dios Ramírez Heredia
Proposal:

Faculty of Educational Sciences

Sponsor:
Prof.

Dr.

Antonio Moreno Verdulla

Celebration:
Grand Theatre Falla – Cadiz 20th of February 2008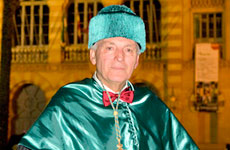 He worked as teacher in Puerto Real but, convinced of the need for higher education, he continued his university studies until he graduated in Law. Simultaneously to his formation, he began his political activities and demands in favor of the Spanish gypsy community. His membership in Radio Televisión Española,where he is staff, allows him to study Information Sciences, where he is a doctor.
He belonged, in the first place, to the Union of Democratic Center from where he integrated himself in the Socialist Workers Party Spanish. He was elected Deputy for Barcelona in 1977, becoming the first gipsy deputy and actively participating in constitutional debates. There remains for history the speech he delivered before the House on 7th of June 1978, which earned him the reputation of a great orator.
He is a founding member and president of the Romany Union, from which he has carried out an extensive work of recognition, diffusion and vindication of the gypsy community, its culture and its values. His main publications and studies pursue the aims of formation and knowledge between gadyés and Gypsies.