Doctor:
Jordi Solé Turá – Speaker for the Unified Socialist Party of Catalonia (PSUC)
Proposal:

Board of Directors of the UCA

Sponsor:
Prof.

Dr.

J

osé María Maestre Maestre

Celebration:
Saint Felipe Neri Chapel, 30th of October 2012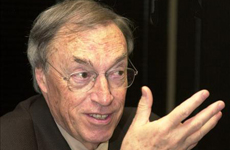 Born in Mollet del Vallés (Barcelona), he graduated in Law from the Autonomous University of Barcelona with an Extraordinary Prize in 1958, from which he became dean in 1985. He was forced to leave Spain in 1960 because of the increase in detention of Communists Catalans, he lived in Paris and Bucharest for four years.
During his youth, he was active in the Popular Liberation Front (known as FELIPE) and in the Communist Organization of Spain (Bandera Roja), during which he was one of the leaders of the Unified Socialist Party of Catalonia (PSUC) which from he was a member since 1956. Shortly after returning to university life, he was arrested and spent six months in prison.
Several years later, he was elected deputy of this party for Barcelona (1977) and was rapporteur and spokesman in the commission in charge of drafting the Constitution of 1978. He entered the Partit dels Socialistes de Catalunya (PSC), being again elected deputy for Barcelona In 1989, 1993 and 1996.
In 1991, he was appointed Minister of Culture by the then President of the Government, Felipe González, position he held for five years. Assiduous contributor to several magazines and newspapers, he is also the author of numerous books.
Since 2000 he was retired from public life. He died on 4th of December 2009.