Doctor:
James T. Willerson
Proposal:

Faculty of Medicine

Sponsor:
Prof.

Dr.

Enrique Otero Chulián

Celebration:
Grand Theatre Falla, Cádiz, 12th of April 2012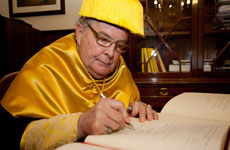 Dr. James T. Willerson was born in Lampasas, Texas. In 1965, he finished his medical studies at Baylor College of Medicine in Houston, where he was an associate professor. He then moved to Massachusetts General Hospital in Boston, where he completed his residency in Internal Medicine and Cardiology. Currently, he is president and medical director of the Texas Heart Institute (Houston), as well as director of the Cardiology Center at the University of Texas (Houston). He is also founder of the Institute of Molecular Medicine for Disease Prevention at the Texas Health Science Center.
Member of the American Society of Medicine since 1997, he belongs to the Societies of Cardiology of the United Kingdom, Spain, France, Greece, Japan, Venezuela, Chile, Colombia and Peru. He has published 947 articles in the most prestigious journals of Cardiology, highlighting his contributions in the diagnosis by image and the treatment of cardiovascular diseases with stem cells. He is the author of 24 textbooks on Cardiology. He belongs to the Editorial Board of 34 magazines of this discipline.
He has received, among many other awards, the Award for Excellence in Teaching by the Faculty of Medicine of Dallas and Houston (1979-1995), Leuven Medical School Award – Belgium – (1994), Distinguished Professor of the American College of Cardiology (2000), Medal of Merit by the International Academy of Cardiovascular Sciences, University of Manitoba – Canada (2004), Heart of Gold by the American Heart Association ), Exceptional Cardiologist by Cardiovascular Society and Shanghai Faculty of Medicine (2006) or Honorary Professor of Beijing Medical School (2007).