Doctor:
Gregorio Peces-Barba – Speaker for the Spanish Socialist Workers' Party (PSOE)
Proposal:
Board of directors of the UCA
Sponsor:
Prof.

Dr.

Francisco Gala León

Celebration:
Saint Felipe Neri Chapel, 30th of October 2012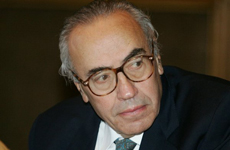 Madrid-born, graduated in Law from the Complutense University and in 1963 founded, along with Pedro Altares and Javier Rupérez, among others, the magazine Cuadernos para el diálogo.
In 1972 he joined the Spanish Socialist Workers' Party (PSOE), then in hiding. In the general elections of 1977 he was chosen deputy by Valladolid and designated member of the paper in charge of studying the preliminary draft of the Constitution.
In 1982, he is appointed president of the Congress, position he leaves four years later to join the university life as professor of Natural Law and Philosophy of Law at the Complutense university of Madrid. In 1990, he was appointed rector of the University Carlos III, position in which he remained until 2007.
In addition to his teaching duties, he continued to practice law. He has been director of the Institute of Human Rights and parliamentarian of the Council of Europe. She has been High Commissioner for Support to Victims of Terrorism between 2004 and 2006.
Connected to Carlos III University as a professor of Philosophy of Law, he died on 24th of July 2012.