Doctor:
Gabriel Cisneros Laborda – Speaker for Union of the Democratic Center (UCD)
Proposal:

Board of Directors of the UCA

Sponsor:
Prof.

Dr.

Miguel Ángel Parrón Vera

Celebration:
Saint Felipe Neri Chapel, 30th of October2012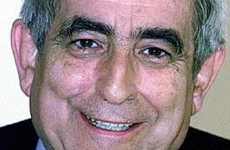 Born in Tarazona (Zaragoza), he obtained a Doctorate in Law. He entered by public examination in the General Technical Body of the Civil Administration of the State in 1967. In 1976, he was appointed General Director of Social Assistance in the Ministry of the Interior, position of which he resigned in April of 1977 to apply for the legislative elections of that year , in which he was elected deputy.
In the Chamber he was part of the Constitutional Lecture, participating in the drafting of the Magna Carta of 1978. One year later he would be elected Secretary of Information of UCD, a position he held when he was the victim of a serious terrorist attack perpetrated by ETA on 2nd of July 1979.
In 1986, Gabriel Cisneros abandoned active politics, although two years later he rejoined the ranks of the Popular Party (PP). In 1990, during the X Congress of the PP celebrated in Seville, he was chosen member of the Executive of the party.
In 2002, Cisneros was elected – along with the Socialist Josep Borrell – to represent the Spanish Parliament in the Convention for Institutional Reform of the EU.
He was reelected as popular deputy on 24th of March 2004. He held the position of third vice-president of the Mesa del Congreso in the VIII Legislature. He died in Murcia, on 27th of July 2007.