Doctor:
Fernando Quiñones Chozas
Proposal:

Faculty of Philosophy and Literature

Sponsor:
Prof.

Dr.

Juan López Álvarez

Celebration:
Faculty of Philosophy and Literature 30th of March 1998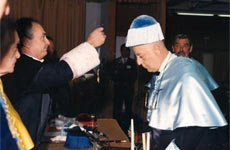 Writer born in Chiclana de la Frontera in 1930, he moved to Cadiz a few months after his birth. Its literary activity began being still a teenager, when he founded in Cadiz the magazine "Platero". Subsequently, in Madrid, he collaborated with other publications of this type, such as "Gracilaso" or "Canticle", in a clear effort to achieve the cultural opening of the country.
The work of Quiñones covers all the genres and stands out for being fruitful and varied. Thus, he excels in his lyrical production with books like Ascanio or book of the flowers, Cercanía de la gracia, Retratos violentos y oda al cante, En vida, Tiempos, Los poemas flamencos and an account of the same or its series of Crónicas. His experimental vocation leads him to be the author of several plays, such as Tres piezas de horror, Carmen, Andalucía en pie and El grito.
Nevertheless, the most popular part of its production is its narrative work, with novels like Las mil noches de Hortensia Romero, La canción del Pirata, and La visita, , and multitude of brief stories and short novels: Cinco historias del vino, La gran temporada, Viento Sur, Tusitala, El amor de Soledad Acosta or Los ojos del tiempo.
One must add his reflective activity, which has made him the author of hundreds of journalistic articles, anthologies and essays, some about literature and others, no less important, on topics as diverse as bulls, flamenco or travel.
On the other hand, its importance as an author is demonstrated by its inclusion in more than 50 anthologies, published in Spain, Argentina, Nicaragua, Holland and Germany, among other countries. His novels and stories have also been the subject of several doctoral theses, both in the University of Cadiz and in foreign centers, and hundreds of articles and conferences.
Fernando Quiñones has not only achieved the approval of the readers, but also of the critics, which has given him several awards. Las mil noches de Hortensia Romero and La canción del pirata were finalists of the Planeta Award. For its part, its poetry collections have been recognized with prestigious distinctions, such as the Adonais Prize for Cercanía (1956), the Leopoldo María Panero poetry prize in 1963 with En vida, the El Olivo International Poetry Prize in 1973 for Memorandum or the international award City of Melilla in 1984 with Las crónicas de Hispania. The list continues with numerous awards for short stories, including the prestigious Café Gijón Prize in 1989 thanks to his work Encierro y fuga de San Juan de Aquitania, as well as the La Nación Literary Prize of Buenos Aires for the Collection of stories  La gran temporada (1960).
He died in Cadiz on 17th of November, 1998.