Fernando Cerveró Santiago
Doctor:
Fernando Cerveró Santiago
Proposal:
Board of Directors of the UCA

Sponsor:
Prof.

Dr.

Juan Antonio Micó

Celebration:
Main Lecture Hall of the Faculty of Philosophy and Literature, 29th of January 2012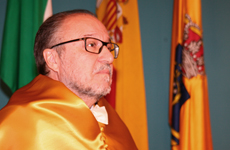 Fernando Cerveró Santiago (Equatorial Guinea, 28th of April 1949) studied medicine at the Complutense University of Madrid (1966-1972). From the beginning, he is interested in neuroscience research. This vocation allows him to enter as an internal student in the Professor of Physiology Professor Antonio Gallego chair. This is where his doctoral thesis culminates: a study on sensory transmission in the spinal ganglia, continuing with the analysis of the responses of the finest afferent fibers, related to pain.
In 1975, he is awarded a scholarship by the University of Edinburgh, where he works with Professor Ainsley Iggo. This stage will mark the passion of Dr. Cerveró for the study of pain and its connection with the International Association for the Study of Pain (IASP), to which he is affiliated that same year and of which he is president since 2010. Previously, he had already held important positions of responsibility in this international organization, among which he emphasizes his role as representative of the IASP for Latin America.
After completing more than eight years at the University of Edinburgh as an adjunct professor in the Department of Physiology at the Faculty of Medicine, he will spend more than a decade in Bristol, where he led a major research group on visceral pain.
After almost 20 years as a professor and researcher at different universities (Sweden, Germany and Hong Kong), he returned to Spain as Professor of Physiology at the University of Alcalá de Henares, where he will lead the Department of Physiology and perform an excellent job at the front of his research group specializing in pain studies.
In 2002, he was appointed director of the Anesthesia Research Unit at McGill University in Montreal. Since 2009, he directs the Pain Research Center at McGill University. His numerous articles and publications in the journals of greatest scientific impact have made Dr. Cerveró a world reference in research and advances on pain.