José Pedro Pérez-Llorca Rodrigo
Doctor:
José Pedro Pérez-Llorca Rodrigo – Speaker for Union of the Democratic Center (UCD)
Proposal:

Board of directors of the UCA

Sponsor:
Prof.

Dr.

Luis Machuca Muñoz

Celebration:

Saint Felipe Neri Chapel, 30th of October 2012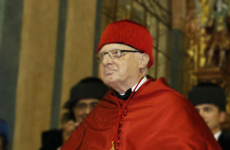 Cadiz-born, graduated in Law from the Complutense University of Madrid and shortly after entered the diplomatic career. In July of 1968 he obtained, by public examination, the position of lawyer in the Spanish Cortes.
His first contact with politics was with the Popular Socialist Party, although in 1976 he joined the newly created Popular Party (PP). Shortly after, the PP joins UCD and in the elections of 1977 he is appointed deputy by Madrid, seat that conserved until 1982. It is in this first legislature when he is speaker in the commission in charge of the writing of the Constitution of 1978.
Within the UCD and during several legislatures he held different positions: minister of the Presidency, Relations with the Cortes, minister of Territorial Administration and in charge of the portfolio of Foreign Affairs. During 12 years (1984-1996) he presides over the Spanish Atlantic Association and occupies Positions of counselor in several private companies.
In 1998, Felipe González named him mediator in the crisis of Kosovo. He is Professor of Constitutional Law at the Faculty of Political Sciences of the Complutense University and Honorary Doctorate by the National University of Distance Education.
Recently he has been named president of the Royal Patronage of the National Museum of the Prado.