noticia
UCA and CEI·Mar consolidate their presence as agents of scientific-technical knowledge in Transfiere 2018
14 February 2018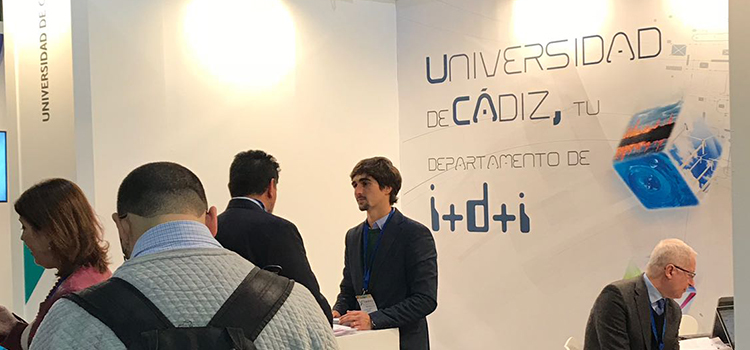 They have registered dozens of transfer profiles on the Transfiere 2018 platform, which has opened its doors in Malaga today
The University of Cádiz, through the Vice-Rectorate of Technology Transfer and Innovation, and the Campus of International Excellence of the Sea (CEI·Mar), through the CEI·Mar Foundation, are participating again this year in the European Forum for Science, Technology and Innovation – Transfiere 2018 – which, in its seventh edition, will take place today and tomorrow at the Palace of Fairs and Congresses of Malaga. Both UCA and CEIMAR come with their own stand to show all their potentialities and singularities in the field of the transfer of scientific-technical knowledge.
In the previous weeks, the University of Cádiz has closed more than fifty meetings of a bilateral nature with the companies present in the forum to detect possible lines of collaboration and has registered dozens of transfer profiles on the platform. Throughout this fair and under the slogan University of Cádiz, your R&D department, UCA aims to show as many companies as possible all the capabilities and services of its more than 190 consolidated and active research groups, integrated by more than 1,200 own researchers and almost 2,500 assigned to their groups and belonging to external organizations.
For its part, the CEI·Mar Foundation has also arranged about thirty meetings with companies to publicise its scientific offer, with more than 150 groups and more than a thousand researchers involved in their studies and work within the largest scientific group around to the marine and maritime studies of southern Europe.
Dozens of specialized transfer profiles of UCA and the CEI·Mar have been registered in the Transfiere platform, grouped in the different sectors proposed by the organization: Public Administrations and Public Purchase of Innovation, Aeronautics and Aerospace, Innovative Business Groups Agri-Food, Energy, Industry, Infrastructure and Transport, Environment, Spanish Technology Platforms, Health and ICTs.