Francisco Miguel Camacho Martínez
| | |
| --- | --- |
| Doctor: | D. Francisco Miguel Camacho Martínez |
| Propuesta: | Facultad de Medicina |
| Padrino: | José Carlos Armario Hita |
| Celebración: | Facultad de Ciencias. Salón de Actos. Campus de Puerto Real. 30 de mayo de 2018 |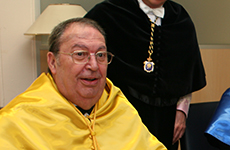 Francisco Miguel Camacho Martínez (Melilla, 1945) es doctor en Medicina por la Universidad de Granada y Catedrático de Dermatología de la Universidad de Sevilla (1981-2015).
Ostenta la Presidencia de Honor de la Academia Española de Dermatología, es Maestro de la Dermatología Ibero-Latinoamericana, Director Regional para Europa Occidental de la Liga Internacional de Sociedades Dermatológicas (2002-2015) y Honorary Membership of the American Academy of Dermatology (2016).
A lo largo de su carrera profesional ha participado en casi 600 publicaciones en su especialidad en español y 250 en otros idiomas.
Es autor de una quincena de libros y ha escrito centenares de capítulos y artículos en revistas nacionales e internacionales.